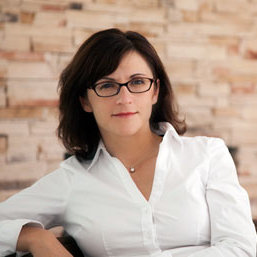 Lidia Zylowska, M.D. is a board-certified psychiatrist and a Diplomate of the American Board of Integrative Holistic Medicine. Dr. Zylowska has expertise in integrative psychiatry, adult Attention Deficit Hyperactivity Disorder (ADHD) and mindfulness-based therapy. At UCLA, she conducted pioneering research in mindfulness and ADHD which has been described in ADDitudes magazine, KNBC Los Angeles Local News program, Time Magazine and Boston Globe. She is a co-founding member UCLA Mindful Awareness Research Center where she continues to serve as the Assistant Clinical Professor.
Dr. Zylowska is also the author of "The Mindfulness Prescription for Adult ADHD" book which was awarded the distinction of "2012 CHADD's Most Innovative Program". Currently based in Northern California, Dr. Zylowska divides her time between clinical care, teaching, and consulting. Her Silicon Valley practice is based in Los Gatos. In addition, Dr. Zylowska offers appointments in Santa Cruz (at the Santa Cruz Integrative Clinic location). Dr. Zylowska is frequently invited to speak about adult ADHD, mindfulness training and integrative/holistic approaches.
PROFESSIONAL BACKGROUND
Dr. Zylowska is a graduate of Wayne State Medical School and the UCLA Neuropsychiatric Institute. At UCLA, she received extended training at the Anxiety Disorders Clinic, the Mood Disorders Clinic and the Women's Clinic. She also served as the Chief Resident of the Behavioral Medicine Program. Since 1998, alongside conventional psychiatry, Dr. Zylowska explored complementary and alternative medicine (CAM). In 2001 she completed a fellowship at the UCLA Center for East-West Medicine during which she studied traditional Chinese medicine, mind-body medicine and other holistic approaches. She received training in Mindfulness Based Stress Reduction (MBSR), Mindfulness Based Cognitive Therapy (MBCT) and Mind-Body Skills Training. She served as a member of UCLA Collaborative Centers for Integrative Medicine and taught integrative medicine to UCLA medical students and psychiatry residents.
In 2003, Dr. Zylowska was awarded the UCLA Robert Wood Johnson Clinical Scholars Program and the UCLA Psychoneuroimmunology Fellowship during which she conducted her innovative research in mindfulness and ADHD. She co-founded the Mindful Awareness Research Center (MARC) and led the development of the Mindful Awareness Practices (MAPs) for ADHD: an 8-week mindfulness training for those with Attention Deficit / Hyperactivity Disorder. The gradual and accessible training of Dr Zylowska's program formed the basis of UCLA's popular course MAPs for Daily Living. The MAPs for ADHD approach continues to be studied by other ADHD researchers. Dr. Zylowska now devotes her time to write, consult and lecture on the topic of mindfulness and ADHD (for more see publications below or see a list of upcoming Events).
Alongside her research work, Dr. Zylowska has been actively involved in clinical care with a variety of patients. She has experience working with adults and college students. She has consulted at the USC Satellite Program, Westside Regional Center, and UCSC Counseling and Psychological Services Center. Between 2003 and 2011, Dr Zylowska built a busy private practice in West LA, seeing patients with general psychiatry complaints as well as those seeking specialized adult ADHD treatment. In 2011, Dr. Zylowska moved her practice to Northern California / Silicon Valley where she enjoys guiding patients in treatment choices and empowering them with skills for well-being. Her main office is located in Los Gatos, CA (some appointments available in Santa Cruz). Click here for more information on our clinical services click here. For more on mindfulness for ADHD training click here.
PUBLICATIONS
ARTICLES
Mitchell, J.T., Zylowska, L., Kollins, S.H. (submitted). Mindfulness Meditation Training for Attention-Deficit/Hyperactivity Disorder in Adulthood: Current Empirical Support, Treatment Overview, and Future Directions.
Bazzano, A., Wolfe, C., Zylowska, L., et al. (2010). Stress-Reduction and improved well-being following a pilot community-based participatory mindfulness-based stress-reduction (MBSR) program for parents/caregivers of children with developmental disabilities. Disability and Health Journal, 3(2), e6-7.
Zylowska, L, Ackerman, DL, Yang, M, Futrell, J, Horton, NL, Hale, TS, Pataki, C, Smalley, SL. Mindfulness meditation training in adults and adolescents with Attention Deficit Hyperactivity Disorder—A feasibility study. J Atten Disord. 2008 May;11(6):737-46. Epub 2007 Nov 19.
Hui KK, Zylowska L, Hui EK, Yu JL, Li JJ. Introducing integrative East-West medicine to medical students and residents. J Altern Complement Med. 2002 Aug;8(4):507-15.
Zylowska L, Hui KK.. Chinese medicine's mind-body integrative approach to anxiety disorders. Primary Psychiatry. 2002 July; 9(7):29-32.
BOOKS AND BOOK CHAPTERS
Zylowska, L. The Mindfulness Prescription for Adult ADHD: An 8-Step Program for Strengthening Attention, Managing Emotions, and Achieving Your Goals. Trumpeter Books, Release Date February 14, 2012.
Zylowska L, Smalley, S and Schwartz, J. Mindfulness for Attention Deficit Hyperactivity Disorder, Chapter in the Clinical Handbook of Mindfulness, Fabrizio Didona (ed). Springer-Verlag-New-York-Inc., Nov 2008.
Hui KK, Yu J, and Zylowska L. The progress of Chinese medicine in the USA. In: The Way Forward for Chinese Medicine Chan K and Lee H (Eds.), Hardwood Academic Publishers, Amsterdam, The Netherlands, 2000.