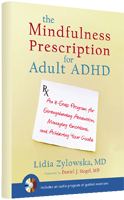 Mindfulness Prescription for Adult ADHD
This book details Dr. Zylowska's 8-step program, which includes practices such as sitting meditation, body awareness, thoughtful speaking and listening, development of self-acceptance, mindful self-coaching, cultivation of a balanced view of thoughts and emotions, and more. The book is accompanied by a CD audio program.
For more information Click Here.
MAPs for ADHD Research and Treatment Manual
The results of the MAPs for ADHD initial study have been published in the J of Attention Disorders, ref: Zylowska, L, Ackerman, DL, Yang, M, Futrell, J, Horton, NL, Hale, TS, Pataki, C, Smalley, SL. Mindfulness meditation training in adults and adolescents with Attention Deficit Hyperactivity Disorder – A feasibility study. J Atten Disord. 2008 May;11(6):737-46. Epub 2007 Nov 19.
The study can be accessed from Journal of Attention Disorders or PubMed Search.
MP3 Album Available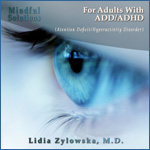 A New Album produced in collaboration with Mindful Solutions
In the News
Articles on Topics related to MAPs for ADHD
Practicing Mindful Moments
Remembering to bring attention to the present moment anywhere, anytime.
Mindful Moment #1
Bring your attention to your body when at work. Notice your breath, body sensations, movements or positions when sitting at the desk, driving, holding the phone, sitting in the meeting, working outside, etc. Notice how it feels to have your weight supported when sitting or standing. Be curious and check in with your body throughout the day whenever you remember. A post-it note can help you remember to be mindful too!